Are you an independent entrepreneur and do you want to work in the Netherlands? Independent entrepreneurs from Europe (as well as from Lichtenstein, Norway, Iceland and Switzerland) have free access in the Netherlands. You can then start working in the Netherlands without a visa, residence permit or work permit. All you need is a valid passport or ID.
Passport or ID
If you are a non-EU citizen, there are several important things to consider. First, a duty to report applies to foreign independent entrepreneurs in the Netherlands. This means that if you want to come to work as an independent entrepreneur in the Netherlands, you must register your work at the reporting desk of the Ministry of Social Affairs and Employment.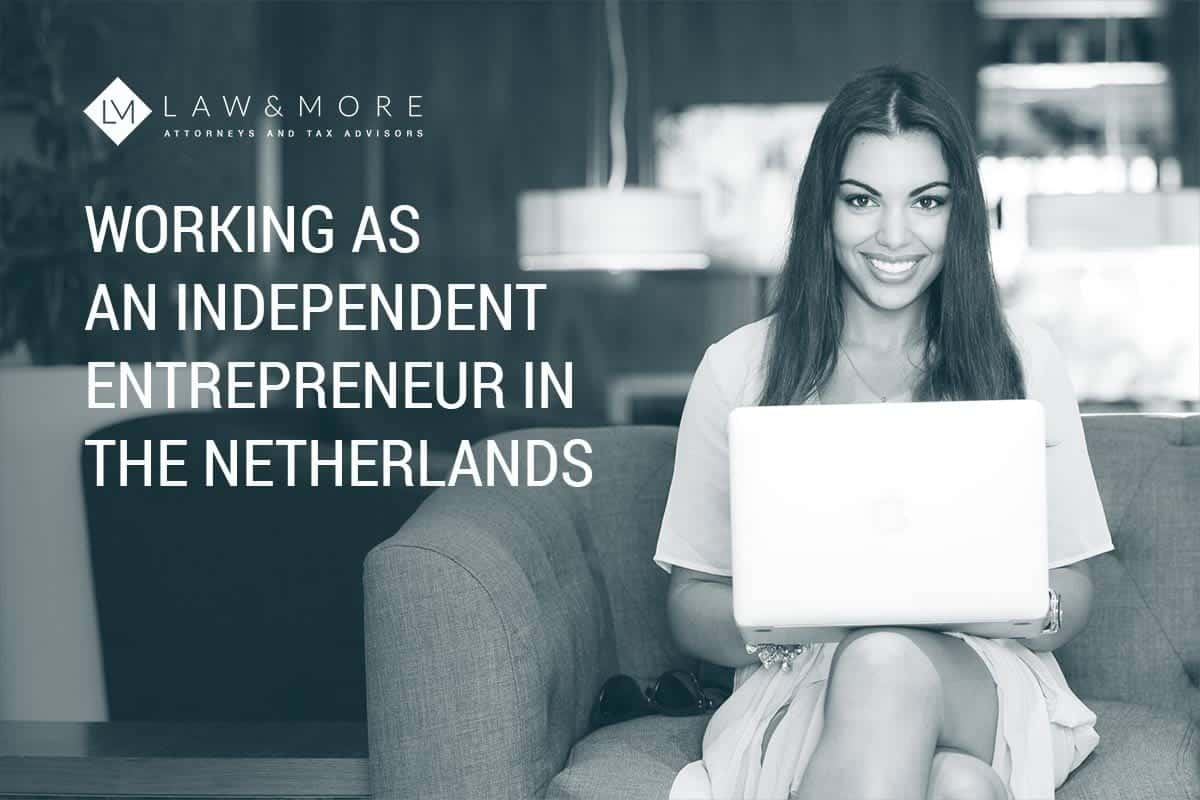 Before you can start working in the Netherlands, you also need a residence permit. To qualify for such a residence permit, you must meet certain conditions. The exact conditions you need to fulfil depend on your situation. The following situations can be distinguished in this context:
You want to start a start-up. In order to start an innovative or innovative company in the Netherlands, you must meet the following conditions:
You must cooperate with a reliable and expert supervisor (facilitator).
Your product or service is innovative.
You have a (step) plan to get from idea to company.
You and the facilitator are registered in the Trade Register of the Chamber of Commerce (KvK).
You have sufficient financial resources to be able to live in the Netherlands.
Do you meet the conditions? Then you will get 1 year in the Netherlands to develop an innovative product or service. The residence permit in the context of a start-up is therefore granted for only 1 year.
You are highly educated and want to start your own company. In that case you need a residence permit "search year highly educated". The most important condition attached to the relevant residence permit is that you have graduated, obtained a PhD or conducted scientific research in the Netherlands or at the designated foreign educational institution in the past 3 years. In addition, it is required that you have not previously had a residence permit for looking for work after study, promotion or scientific research on the basis of completing the same study program or the same PhD track or conducting the same scientific research.
You want to work as an independent entrepreneur in the Netherlands. For this you need the residence permit "Work as a self-employed person". In order to qualify for the relevant residence permit, the activities that you will carry out must first of all have an essential importance for the Dutch economy and the products and services you will offer must be innovative in the Netherlands. The essential interest is generally assessed by the IND based on a points system consisting of the following components:
Personal experience
Business plan
Added value for the Netherlands
You can earn a total of 300 points for the listed components. You must earn at least 90 points in total.
You can receive points for the personal experience component if you can demonstrate that you have a diploma of at least MBO-4 level, that you have at least one year of experience as an entrepreneur and that you have gained work experience at a relevant level. In addition, you must demonstrate some experience with the Netherlands and submit your previously received income. The foregoing must be done based on official documents such as diplomas, references from old employers and your previous employment contracts. Your experience with the Netherlands can be evident from your trading partners or clients from the Netherlands.
With regard to the business plan, it must be sufficiently substantiated. If this is not the case, there is a chance that your application will be rejected. After all, it must be clear from your business plan that the work that you will be carrying out will have an essential importance for the economy in the Netherlands. In addition, your business plan must contain information about the product, the market, the distinctive character and the price structure. It is important that your business plan also shows that you will earn sufficient income from your work as an independent entrepreneur. The foregoing should be based on sound financial underpinning. To this end, you must again submit documents that clearly demonstrate the substantiation, such as contracts or references from your customers.
The added value that your company will have for the economy in the Netherlands can also be evident from investments you have made, such as the purchase of a commercial property. Can you demonstrate that your product or service is innovative? You will also be awarded points for this part.
Pay attention! If you have Turkish nationality, the points system does not apply.
Finally, you as a self-employed person have two general requirements to qualify for a residence permit, namely the requirement to register in the Trade Register of the Chamber of Commerce (KvK) and you must meet the requirements for running your business or profession. The latter means that you have all the necessary permits for your work.
When you come to the Netherlands as an independent entrepreneur and before you can apply for a residence permit, you usually need a provisional residence permit (MVV). This is a special entry visa valid for 90 days. Your nationality determines whether you are required to have an MVV. For some nationalities or in certain situations, an exemption applies, and you do not need it. You can find a list of all MVV exemptions on the IND website. If you are required to have an MVV, you must meet several conditions. First, you need a purpose of residence in the Netherlands. In your case, that is work. In addition, there are several general conditions that apply to everyone, regardless of the chosen purpose of stay.
An MVV is applied for by means of an application for entry and residence (TEV). You can submit this application at the Dutch embassy or consulate in the country where you live or in a neighbouring country.
After submitting the application, the IND first checks whether the application is complete and whether the costs have been paid. The IND then assesses whether you meet all the conditions for granting the mvv. A decision will be made within 90 days. It is possible to object to this decision and to appeal if necessary.
At Law & More we understand that starting as an independent entrepreneur in the Netherlands is not only practical, but also a major legal step for you. It is therefore wise to first inquire about your legal position and the conditions that you must meet after this step. Our lawyers are experts in the field of immigration law and are happy to advise you. Do you need help applying for a residence permit or an MVV? The lawyers at Law & More can also help you with that. If your application is rejected, we can also help you with submitting an objection. Do you have another question? Please contact the lawyers of Law & More.